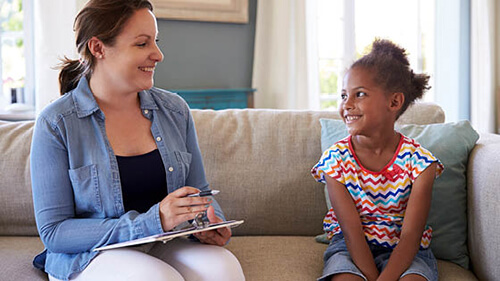 Lucas County Children Services works with families, service providers and community members to assess risk and coordinate community-based services resulting in safe, stable and permanent families for children.
LCCS Services — General Overview
Lucas County Children Services gets its mandate from state of Ohio law. According to the Ohio Revised Code, public children services agencies shall do all of the following:
Investigate allegations of child abuse, neglect or dependency

Make reasonable efforts to prevent the removal of children from their homes
Accept custody of children from courts with juvenile jurisdiction
Provide temporary emergency shelter when necessary
Find family foster homes for children
Implement a system for assessing risk to children
Administer federal adoption assistance funds
Our present array of services includes:
Intake and assessment
Ongoing case management
Family team meetings
Out-of-home (foster or kinship) placement
Crossover services
Permanency support
Kinship support
Family search, adoption, and post-adoption services
Independent Living and young adult services (BRIDGES)
Visitation
Protective day care
Health/medication monitoring
Pre-service and in-service caregiver training
Resource referral
As part of its commitment to leading the community in the protection of children, LCCS in 2005 achieved accreditation from the Council on Accreditation, an independent not-for-profit international accreditor of community-based behavioral health care and human service organizations. This involved a four-year examination of agency policies and practices. The standards driving accreditation ensure that services are well coordinated, culturally competent, evidence-based, outcomes-oriented, and provided by a skilled and supported workforce. The agency later achieved reaccreditation in 2009 and 2017.
705 Adams St., Toledo, OH 43604
Directions
Switchboard is answered 24/7
Phone: (419) 213-3200
Fax: (419) 327-3291
Office Hours:
Monday – Friday:
8:00 am – 5:00 pm