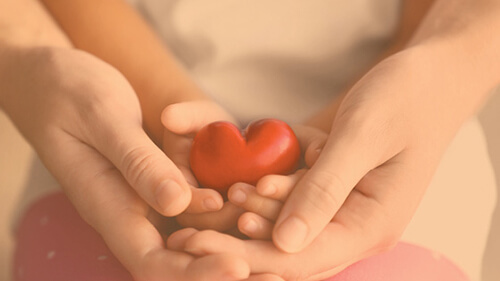 To learn more about Foster-To-Adopt:
Attend a community recruitment event; call 419-213-3336 and/or fill out the"Request More Information" form below.
To learn more about becoming a foster parent:
Attend a community recruitment event;
call 419-213-3336
and/or fill out the"Request More Information" form below.
Most children enter foster care with the goal of reunifying with their birth families. Unfortunately, for some families, the barriers are too great, and it falls to LCCS to find new, forever families for children.
In addition to the many resources accessible to foster parents, there are pre-placement and post-placement adoption services that can help you prepare for your child and address any adjustment issues that arise after the child joins your family.
Adoptive families can face situations and difficulties in parenting that are very different from those experienced by "traditional" families. Post adoption services are available to all adoptive families, whether their adoption was public, private, kinship, or international. The Post adoption caseworker is trained to address the issues that arise as a family welcomes new members, and can help adoptive families work through them. Services provided by the post adoption caseworker include, but are not limited to:
Case management
Behavior management
Crisis management
Support through advocacy by attending school meetings, team meetings, etc.
Referral to services
Respite
Subsidies/financial resources
Training
Books and videos
Birth family issues/mediation
The post adoption caseworker can also provide support to adoptees who are searching for birth family information, and to birth parents whose child has been adopted. Post adoption services are completely voluntary and do not require an open case with Children Services.
Post Adoptive Special Services Subsidy (PASSS)
For families who have adopted a child or children with special needs, Ohio offers the Post Adoptive Special Services Subsidy. It helps Ohio families meet the special needs of their adoptive children after finalization. Each child may be eligible for additional monetary support each year based on their therapeutic needs, regardless of whether they were identified before finalization or after the child was adopted. Support can include counseling, training, and support for the parents.

Adopt America Network offers Ongoing Adoption and Kinship Support (OAKS). These services are specifically for post adoption and post legal custody families. Participating families need not have an open case to participate in the services.
Children in adoptive and post guardianship families often present challenging behaviors and struggles with attachment and bonding. Without services, these families become disheartened and discouraged. This new, family-based program will provide support services to these families from an agency not affiliated with Children Services.
Home Based Parent Education and Coaching
Adopt America Network provides parent education and coaching in the home, based on family needs. Our staff utilizes TBRI strategies in conjunction with the Exchange Parent Aide Model to best meet these needs for families. The focus is on attachment-based interventions to help families and children bond. Skill building interventions are also used to help parents learn new ways of parenting that meet the needs of the child.
Support Networks
Adopt America wants parents and children to feel supported. We offer support groups to both parents and children. The groups are held in the community. While parents meet in their group, the children have their own support group. AAN also offers parent and child mentors; we have a list of experienced adoptive/legal custody families in the community that are willing to be mentors to help families overcome challenges and bond together.
To learn more about foster care adoption:
Attend a recruitment event; call 419-213-3336
and/or fill out the "Foster-To-Adopt Inquiry Form" form below.
Frequently Asked Questions (FAQs)
Homestudy Process
Foster-To-Adopt Inquiry Form
Frequently Asked Questions (FAQs)
Homestudy Process
Foster-To-Adopt Inquiry Form