Due to the COVID-19 pandemic, volunteer opportunities have been temporarily suspended.
Please check back for volunteer opportunities as the situation improves.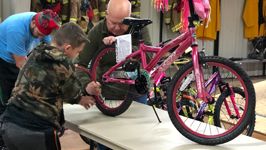 Lucas County Children Services (LCCS) and nonprofit partner Friends of Lucas County Children Services (Friends of LCCS) team up throughout the year on special events and campaigns to benefit the children in the care and custody of LCCS. Volunteers become a valuable asset when they donate their time and effort toward these causes, whether it's sorting and counting school supplies in the summer, helping during the annual Trunk or Treat event in October, or serving on a toy team during the holiday gift drive each December, along with other opportunities. LCCS and Friends of LCCS welcome groups from schools, companies, civic groups, church youth groups, and individuals!
Administrative Opportunities
Volunteers can help carry out essential office duties such as mailing, sorting, counting and labeling.
Special Event Opportunities
Volunteers help carry out special events and annual campaigns, such as the backpack/school supply drive, Trunk or Treat, and the events associated with the holiday gift drive.
Volunteer Hours
Volunteer times are available throughout the year, on school holidays and during special events.