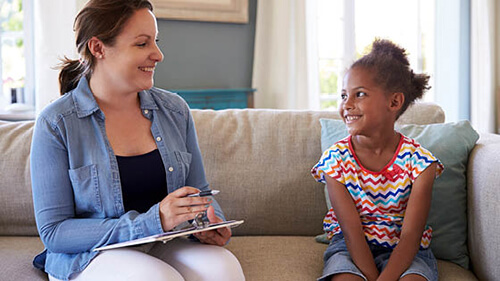 Lucas County Children Services works with families, service providers and community members to assess risk and coordinate community-based services resulting in safe, stable and permanent families for children.
Preventive services include activities that seek to reduce or deter specific or predictable problems, protect the current state of well-being, or promote positive outcomes or behaviors.
Department of Family Services (DFS) caseworkers collaborate with parents to develop and implement a family case plan outlining the services, goals, actions, and changes needed to keep children safe within the home setting and family dynamic. A DFS caseworker visits the family regularly to work together with the family to evaluate the progress of the case plan and check the well-being of the child(ren). The caseworker stays involved until parents no longer need help to keep children safe, by encouraging them to participate in services such as counseling, parenting classes, or drug treatment. A care team helps decide if other interventions must be sought. >> For More Information
Kinship care places a child in the substitute care of a relative or non-relative adult that has a relationship with that young person when parents are unable or unwilling to care for the child(ren). Kinship care promotes the safety, permanency and well-being of children. Kinship care reduces the need for children to enter foster care, and can be a temporary or permanent arrangement. Kinship care can include those relationships established through an informal arrangement, a legal custody or guardianship order, a relative foster care placement, or a kinship adoption. >> For More Information
Independent Living Services
Independent Living is an array of caseworker-based services for youth ages fourteen (14) and older who are in foster care, to help prepare them for future self-sufficiency. Those services may include academic support, post-secondary educational support, career preparation, employment programs or vocational training, budgeting and financial management, health education and risk prevention, family support, mentoring, supervised independent living, and room and board financial assistance. >> For More Information
As mandated by law, LCCS provides independent living services to all youth ages 14 to 18. These services are designed to help the youth prepare for self-sufficiency. Post-emancipation services for youth who left LCCS care at age 18, but who are up to 21 years old, are also available on a voluntary basis. Youth work with caseworkers to develop a custom plan focused on personal responsibility and self-sufficiency.
Bridges, another voluntary program, is available to young adults in Ohio who leave foster care at ages 18, 19 or 20 and who are in school, working, participating in an employment program, or have a medical condition that prevents them from going to school or working. The program supplements existing county post-emancipation services. >> For More Information
The Ohio Education Training Voucher program provides up to $5,000 a year in federal funding for qualified school-related expenses for young people who aged out of foster care or who were adopted after age 16. >> For More Information
705 Adams St., Toledo, OH 43604
Directions
Switchboard is answered 24/7
Phone: (419) 213-3200
Fax: (419) 327-3291
Office Hours:
Monday – Friday:
8:00 am – 5:00 pm