~   Campaigns & Special Projects   ~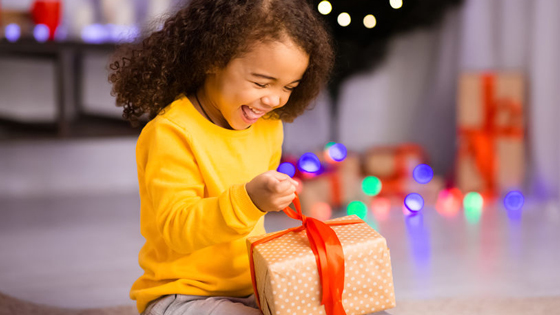 Each year, Lucas County Children Services teams up with the Friends of LCCS and community partners to sponsor a holiday gift drive.
For the abused and neglected children that we serve, your donated gifts may be the only ones they receive. Some live in homes teetering on the brink of crisis. Others cannot live safely at home and are in substitute care, or are separated from their siblings at a time when they should be filled with excitement about the upcoming holiday season. Whether you are able to give one gift or 100, your support is appreciated. It will bring a smile to the face of a child who may have little to be happy about this holiday season.
Support our holiday party
With support from the Friends of LCCS and area businesses, LCCS holds an annual holiday party, where children and their caregivers get to meet Santa and receive a small gift from him; participate in activities, and visit the Lights Before Christmas. This event provides a fun evening for more than 1,000 children and their foster or kinship caregivers. Donations are appreciated to offset the cost of food, gifts, and Zoo activities. 
Our kids like the same kinds of toys and gifts that your own kids or grandkids like.
Need suggestions? Call Lucas County Children Services (LCCS) at 419-213-3254. We can offer general recommendations based on gender, age and race, which can be helpful when selecting items such as dolls or certain hygiene products. The agency's goal is to provide each child under the age of 12 with three gifts, and our teens with a gift card.
Gifts should remain unwrapped. However, we appreciate—and welcome—donations of wrapping paper, gift bags, tape, bows and ribbon. There is no need to label the gifts.
Want to help a teen? Like all teenagers, LCCS teens love to make their own buying choices and they love gift cards. We welcome gift cards for stores like Target, Meijer, Wal-Mart, or other retailers. Please make sure to write the value on any gift card.
Deliver your gifts to LCCS, 705 Adams Street (at Erie Street).
There are certain categories of toys and gifts that are frequently requested – but that we never have enough of. Consider sponsoring a "category" drive. For example, we are always in need of sporting goods (basketballs, footballs, baseball gear, skateboards, scooters, etc.), Legos, science/STEM gifts, "superhero" action figures/activity sets, and craft sets. We also receive requests for "character" twin size bedding, items. If you have a specific area of interest, let us know!
However you decide to participate, we appreciate your generosity
to ensure that these children enjoy the holiday season!
705 Adams St., Toledo, OH 43604
Directions
Switchboard is answered 24/7
Phone: (419) 213-3200
Fax: (419) 327-3291
Office Hours:
Monday – Friday:
8:00 am – 5:00 pm