~   Campaigns & Special Projects   ~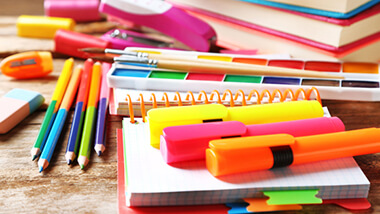 Please help children served by LCCS to start the school year in a positive way! Each summer, Friends of Lucas County Children Services work with LCCS to organize the "Ready, Set, School!" campaign to collect backpacks and school supplies to equip children in grades K through 12 that are being served by LCCS.
With the challenges our children face, it's important for them to have a positive back-to-school experience just like other kids. Starting the first day of school with a new backpack filled with the right tools is an important first step. As a community partner, LCCS welcomes your support to help provide pens, pencils, notebooks and supplies children need to start the school year off right.
There are four ways you can help:
1) Make a tax-deductible donation to Friends of LCCS to be used toward the purchase of school supplies;
2) Drop off your donation of school supplies directly to LCCS at 705 Adams St., Toledo, OH 43604
or participate in the Buckeye Broadband drive-through drop-off event July 19, 4-7 pm, at The Appliance Center.
3) Organize a school supplies collection with friends, family, or through your church, organization, or business.
Please download this flyer.
4) Shop the Amazon Wish List of school supplies.
For more information, contact the LCCS Public Information Department at 419.213.3634.
Lucas County Children Services School Supply List:
New backpacks (various sizes for Kindergarten through high school)
24-pack crayons
#2 pencils
Pink erasers
Pens – blue, black, red
Washable markers – fine point, wide point
Colored pencils
Dry-erase markers
Highlighters
Three-ring binders – 1" and 2"
Subject Divider Pages
Pocket folders – all colors, paper and plastic
Filler paper – college and wide-ruled
Single-subject spiral notebooks – college and wide-ruled
Composition notebooks– college and wide-ruled
Pencil boxes and pouches
Rulers
Scissors – blunt tip and pointed
Glue sticks
Elmer's glue
Tissues
Disinfecting wipes
Baby wipes
Index cards
705 Adams St., Toledo, OH 43604
Directions
Switchboard is answered 24/7
Phone: (419) 213-3200
Fax: (419) 327-3291
Office Hours:
Monday – Friday:
8:00 am – 5:00 pm